The Eastern Ohio Development Alliance held a meeting on November 8, 2019 at the Salt Fork Lodge and Conference Center in Guernsey County. Members and guests were provided an update on shale oil and gas in Ohio and neighboring states by Dr. Charles Zelek, a Senior Economist with the U.S. Department of Energy.
State Director of the U.S. Department of Agriculture, Dave Hall, also shared very encouraging news on projects recently funded by USDA and partnering agencies; including initiatives to provide broadband services to rural Ohio.
Good news was also shared by Lance Willard, City Manager for the City of Columbiana which was recently named the Nicest Place in America by Reader's Digest magazine.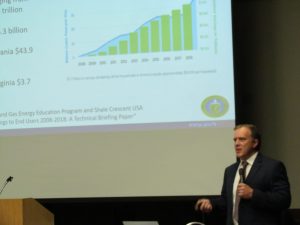 Dr. Charles Zelek, Senior Economist, U.S. Department of Energy
Click Here for Dr. Zelek's presentation: EODA_11_8_V2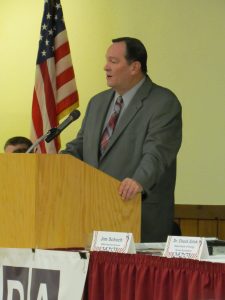 Dave Hall, State Director, U.S. Department of Agriculture